Benefits of using Virtual Try-On In E-commerce business
The virtual try-on tool has been around for a while, but it has only recently been introduced to the eCommerce market. This is a great example of how AR is used to make shopping more interactive and personalized for consumers.
Virtual try-on is an online tool that helps users find the perfect jewelry for them by letting them to try on virtually. It also provides some information about the product, such as its size, Material composition and other details. This tool can be used in various ways from finding out if a certain item of jewellery will fit you, to trying on jewellery before purchasing it.
According to Nyma Malik's article , 40% of consumers are prepared to spend more on a product if they can sample it using augmented reality. This is because using augmented reality makes it simple for consumers to explore their alternatives and customise or customise the products. Additionally, 70% of individuals are anticipated to show increased loyalty to brands who use Augmented Reality in their purchasing experiences.
The benefits of using virtual Try-On in e-commerce business are:
It provides a complete shopping experience without the risk of buying jewelry that don't fit.
It helps you to find the right size and style for you by letting you try on different products.
It makes it easier to shop online by eliminating the need to go through multiple pages or search for specific items.
You can save money on shipping costs because you can try on different models before buying them.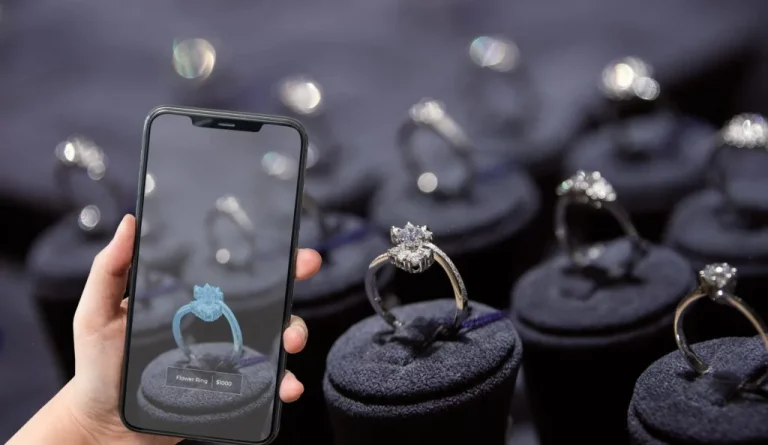 Image Credit : ProfessionalJeweller.com , Postindustria.com
Advantages of using Camweara Virtual Try-On
Camweara virtual try-on offers the best features with realistic experience. It has been designed to help customers find the right product which they have in mind.With camweara, you just need to upload your image, choose the desired item, and then try on different styles. You can also use your webcam to see what it will look like on you before you make a purchase decision.
Camweara also enables you to generate public or private shareable try-on links that you can send for a more personalized shopping experience. Recipients will just click the Link you sent to try on the item.
Accurate
Camweara provides 97-99% of accurate results even for android and ios devices, day and night lighting.
Lightweight
It is very lightweight in memory size i.e. less than 5MB, hence it loads faster.
Multiple Categories
Camweara supports multiple categories, which can be helpful to the clients with a wide range of products; most of the categories are in jewelry, including earrings, necklaces, pendants, rings, bracelets, and watches.
Beauty Filter
Looking nice is important in everyone's life, but sometimes we do not have time to get ready, and that is why we have this beautify feature, which enhances the user's looks on the screen while trying on products. It internally uses AI algorithms to improve skin tone and help them make better purchases.
Live Demo
Live mode is set by default, users can try on a live camera or laptop video, thereby providing real time and immersive experience.
Photo Mode
Photo mode helps users try to three different model pictures, users can also upload their own or friends or someone else's photo to see a how jewelry looks on them before purchase.
In Depth Analysis
Camweara dashboard provides in depth analytics including number of users, button clicks, top tried products. It helps store owner to understand impact of Camweara on sales.
Overall, Camweara provides a better shopping experience for customers by allowing them to experience the product before they purchase it. This improves the sales rate as well as brings global exposure to their products. It is an easy to use and cost-effective solution for both customers and retailers. You can try the camweara virtual Try-on demo by clicking here